Hi everyone!
After some beta testing, it's time for a new release – this time with some fixes and new features.
Fixes
Due to some eBay changes, I've fixed the following:
incorrect bids in Ended Watchlist items
incorrect time left and prices in Watchlist
New features
These are a number of things people have requested.
New Time frames and Free Shipping
The first couple are extra search options:
New time frames – 5, 10, 15 and 30 minutes – helpful for those searches with zillions of results – just retrieve those that are ending in the next 5 minutes.
Free shipping option – don't want to be caught out by large shipping costs? Choose this option! Note that this will return items that provide free shipping to at least one location, so it may not necessarily be free to you – for example, a search on eBay US will return items that provide free shipping to US addresses but may charge for shipping outside the US.
Here's a screenshot showing where these options are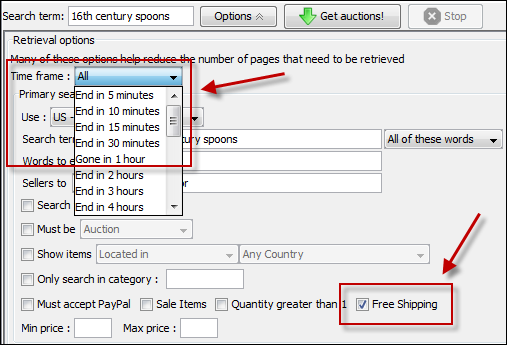 Remove button in Price History Search
Next feature has been requested by a few people – the ability to remove items from the Price History via the Price History Search panel. This appears at the bottom of the Price History and Watchlist tabs. Currently, it can be tedious to select a range of items in the Price History to delete. With this new feature, you can highlight some common text in the items so they appear in the Price History Search results. Then click the checkbox in the column heading to select them all and click on Remove as shown: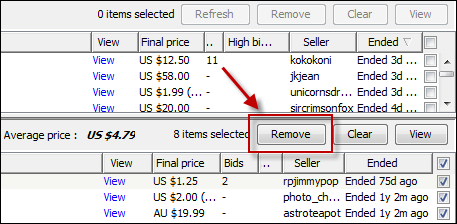 Too many pages warning
By default, if you perform a search that will return more than 500 pages of results (ie more than 2500 items), AuctionSieve will throw up a warning asking if you want to continue. If you routinely do these large searches and find the warning annoying, you can now turn it off. Go to Tools->Options…->Sieve Actions tab and click on the option shown: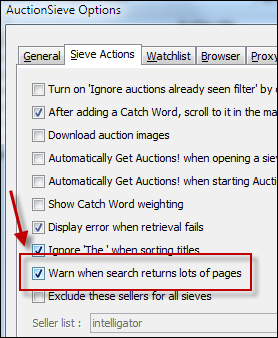 I hope you enjoy these new time saving features!